Genre: documentary film
Duration: 5 minutes 32 secondes
Production: 30iPS/Access All Areas/Theatr Mwldan
Postproduction: Mook Productions
Year: 2014
Synopsis: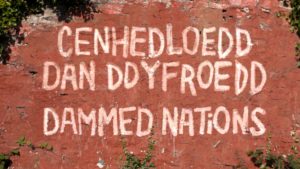 A short documentary film about the Dammed Nations UK tour in 2014. Dammed Nations was born from the encounter between two folk music cultures, the Welsh Siân James and Gai Toms on one hand, the Nubian group Nuba Nour on the other. They all come from villages that were submerged to allow the construction of a dam. That of Aswan in Egypt, which led to the displacement of thousands of Nubians, and that of Llyn Celyn in Northern Wales, which, by shaving Capel Celyn to allow water supply to the Liverpool industries, revived the pro-independence and Celtic movement in Wales in the 1960s.
For copyright reasons, the documentary is not available online. Please contact 30iPS for more information.